A new image has been making its way through the Internet featuring a new look at King Valkyrie (Tessa Thompson) and Mighty Thor (Natalie Portman). It's unclear where they are but it does seem like some kind of meeting is taking place. What stands out, however, is a third character is included in the image. Everyone is sitting on a throne of some kind with our two main heroines sitting on one that seems to reflect where they are from. The Egyptian-inspired design and the cat ears on their helmet may be a signifier that this is our first look at the Goddess Bast, who we first met in Black Panther's iconic opening as a giant panther.
There was a leak that the character would be played by an actress named Akosia Sabet on Showcase. So, there's a high chance that she might appear, especially if Gorr the God Butcher is making his god butchering grand tour. Still, it's not a definite confirmation and only the design is a real hint at who this character might be. There's a chance it could be someone completely different, but there are enough hints to make the connection. She's had a humanoid form in the comics as well, and it wouldn't be too surprising she could change between that and her giant Panther form in the Marvel Cinematic Universe as well.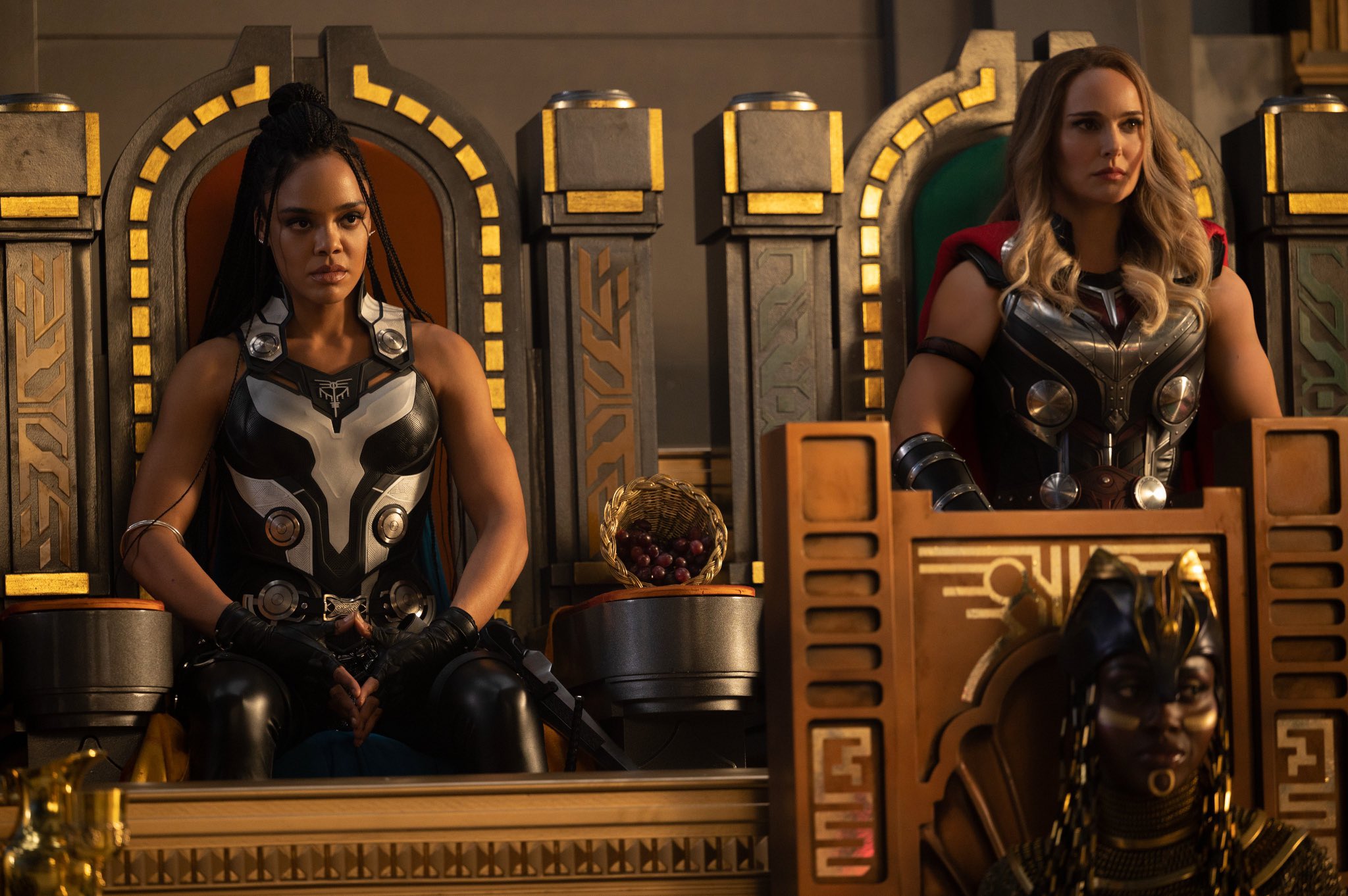 The Egyptian design also hints at the connection due to Bast actually being part of the Egyptian pantheon. We've never fully explored her history and how she came in contact with the first man to become Black Panther and who would eventually found Wakanda. Perhaps we get a tease in the film in a conversation between her and Valkyrie. For now, it's still speculation but it's certainly interesting if she was indeed accidentally revealed with this new image. There's also the question if this segment or shot makes it into the final cut.