It looks like we have only scratched the surface of where Marvel's Avengers is heading. In today's Square-Enix Presents event, we got a showcase of the game's new Hawkeye DLC. Suddenly, they threw in various new showcases of upcoming additions to the game. It was odd that the actual roadmap only got briefly highlighted for a few seconds. It seemed like the big selling point of the stream was our first look at Black Panther. It looks like Crystal Dynamics has also welcomed journalists and influencers to join them in advance, where they revealed some more information on what you can expect from the game. Here's a quick overview of the details that weren't covered: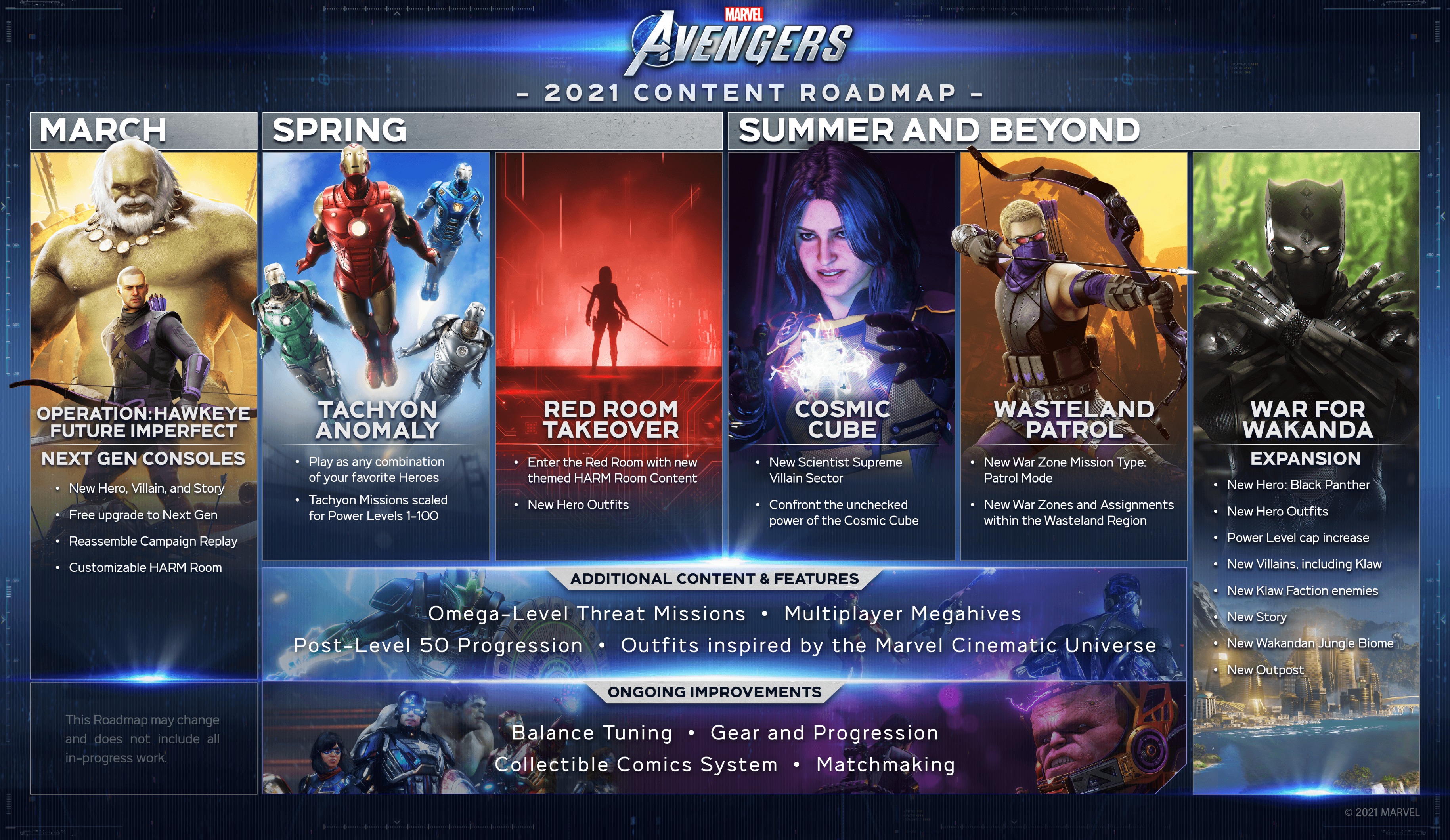 In the latest update, there is a new Epic Artifact titled Void Tech Transponder. It allows you to summon Dr. Hank Pym. Yes, you read that right. We are getting 

Final Fantasy

-style Summons,w which is hopefully going to get expanded on.

Each Avengers has a unique animation for petting Lucky the Pizza Dog. It's not relevant, but I love it.

Animated Nameplates are in development for some additional flair.

Tachyon Anomaly will be temporarily available. It will apply to all mission times on the Initiative. It will also offer daily and weekly rewards if you join teams o the same heroes, and it will introduce new Tachyon Rift missions on the Eastern Seaboard.
Red Room Takeover takes inspiration from the upcoming 

Black Widow

 film. Yelena Belova placed surveillance chips in Aimbots, and you have to retrieve them. If you manage to find the source, you can unlock a special mission to "settle the score." Multiple versions will be available throughout the event, which let you earn cosmetics and unique nameplates. It will act like an Escape Gauntlet.

According to Forbes, the Red Room Takeover is also when they plan to release Marvel Cinematic Universe skins. It's a perfect time to promote the game with skins inspired by the film.

Cosmic Cube is a direct sequel to Hawkeye's Future Imperfect storyline. Monica Rappaccini is creating a Cosmic Cube in a secret AIM lab in the Frozen Tundra. It was promised as a new experience that involves the techno-advanced clone-army of Monica.
The Wasteland Patrol will unlock a large map in Hawkeye's Wasteland. Enemies and activities will continue to spawn, and you have no set objective. So, you can engage with enemies however you please.

The Omega Level Threat Missions seem to be eyeing a Summer release. That is at least stated according to IGN, while others keep that date open. If you consider the roadmap, it isn't slated with a specific date. So, it'll be released once it is ready. "Resolution" will be the Super Adaptoid map, which offers unique green glowing gear for players.

War for Wakanda will be a full-on expansion, so expect the biggest update since launch. Of course, they highlighted it is still free, as all content promised for the game. Wakanda will feature new areas, puzzles, and a lot more.

Spider-Man is still in active development, but could not offer any information on his timeline.
In this early showcase, CD's studio head Scot Amos opened up about changing their philosophy moving forward. They aim to be more transparent and highlight how they've learned from the past months adjusting to the current climate. They are fully committed to the game and promise that the story will continue with frequent updates. In an interview with Gamespot, he had the following to say about the game's future handling and confirming the game is finally at a point that it can start focusing on putting out content:
It is building the blocks and putting it in place. And that's partly our learnings from how we launched in September and saying, "Oh my God, like we gotta get these other things." Because if you have a shaky foundation, it's terrible. So being able to build up to where we are now, with our extra platforms coming [with] PS5 and Xbox Series S|X, now we feel like we have a stable base with all these things in there that we can build on top of.
It seems they understand the underlying issues, and their work on Loot 2.0 alongside exploring options beyond a heroes level cap will be essential moving forward. They are committed to more transparency, which we got a glimpse of during the build-up to Clint's release. As the roadmap reveals showcased, it is a steep learning curve. A lot of information is available, but only if you know where to look for it. Even with the recent announcement, you have to look through various outlets and Social accounts to get a complete picture. The year has only begun for Marvel's Avengers, and I cannot wait to see them roll out these events in the coming months.
Source: IGN, Forbes, YouTube (Kinda Funny Games), Gamespot, YouTube (BobDuckNWeave), YouTube (BobDuckNWeave Events)