We've been discussing back-and-forth when the next Marvel Studios Disney+ series may premiere. While we're still waiting for Moon Knight's to release by the end of the month, it seems that we got more information on when Ms. Marvel's summer release might be. New information provided by Hollywood Partnership, who blocks off streets for Hollywood-related events may have given us our first hint at when the series will make its debut on Disney+.
They've shared information that Hollywood Blvd. will be closed down for a Ms. Marvel premiere from June 2nd until June 3rd. As these red carpet premieres are usually shortly before the release on Disney+, it may confirm a June release on Disney+. Yet, they might also have the premiere event a week or so ahead. As Obi-Wan Kenobi releases by the end of May 2022, it might be a bit later due to Disney+ generally avoiding overlaps for their series.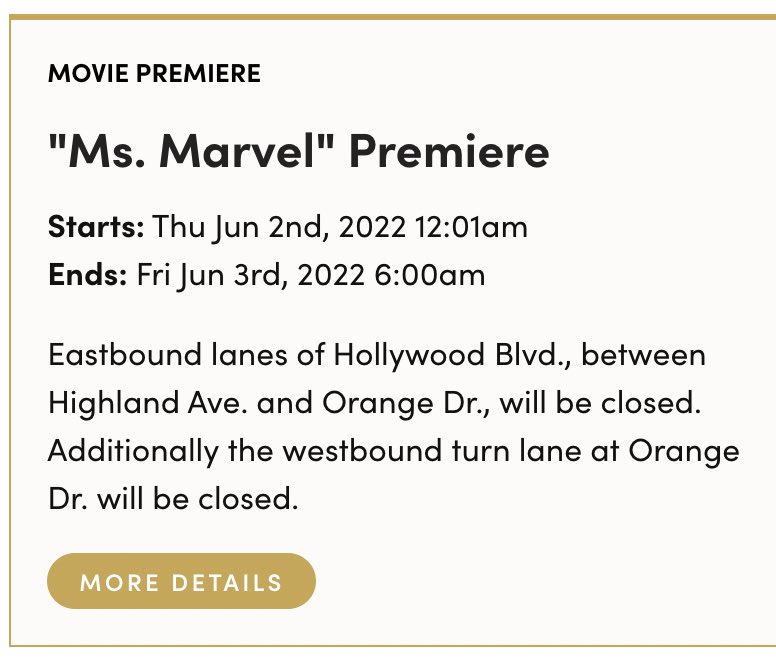 There's still no official word from Disney on the release outside that She-Hulk won't release until after its premiere on Disney+. We usually get it around two to three months ahead of its premiere. So, an April confirmation seems very likely if it is indeed going to release in June. Right now, Marvel Studios is focused on its release of Moon Knight and we'll still have to wait just a little longer until we get an official word.
Source: Hollywood Partnership via Twitter