Even with a trailer and poster out for Thor: Love and Thunder, our only real look at Christian Bale's Gorr the God Butcher comes through merchandise. We got the release which included some concept art with a very different design from the comics. Yet, a Funko Pop would tease that he may indeed have similar abilities to what he had in the comics, as the All-Black Necrosword can extend like a symbiote. A new round of promo images for Love and Thunder have found their way online that are inspired by classic comic covers, which also include a new look at Gorr.
Mighty Thor gets a good focus alongside Thor, but the final image includes a great look at Gorr wielding his weapon. Yes, he is true quite a bit more humanoid with white robes covering his body, but it once again confirms that the All-Black has the ability to extend with some dark energy. Here's hoping that means he'll also get his iconic black hood as the film goes on. Perhaps he'll become more and more alien over the course of using the blade, which may curse its user.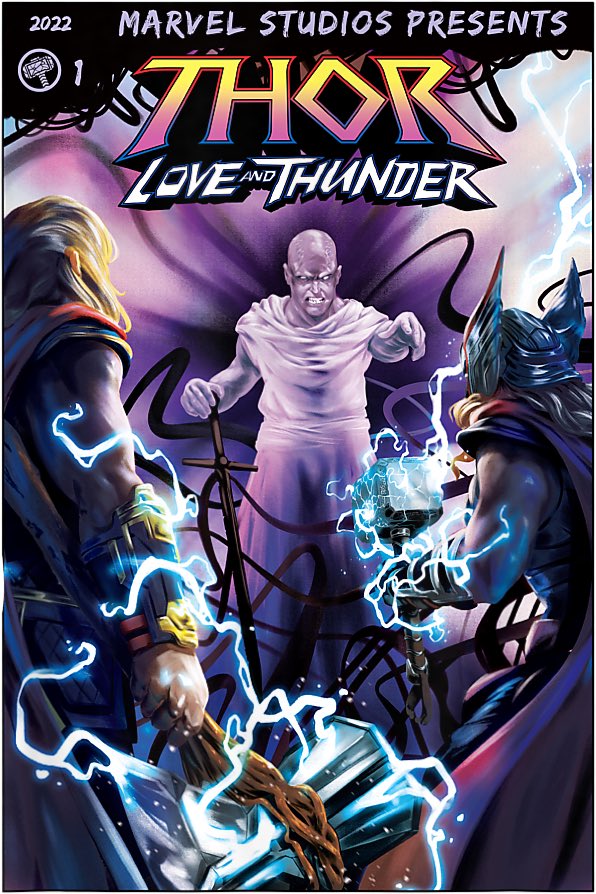 As it's a drawing, they may change quite a bit about the design but it does seem the tendrils of darkness are going to remain a consisting element of his design. The actual blade is a curious design, as it seems like a normal longsword rather than something that screams "alien." It may have a different origin story in the film rather than in the comics and may actually have some kind of connection to the overarching storyline. Perhaps it even plays a bigger role in the MCU moving forward.
Source: Twitter