Connecting Imaginary Dots: Owen Wilson Is…Ugh…Kang
If you've never read an installment of Connecting Imaginary Dots, allow me to explain the idea. Connecting Imaginary Dots was the title I came up with for my speculation pieces when I was writing at MCU Exchange. These types of pieces basically allow me to unload a bunch of junk that's circulating in my brain in a way that should never be confused for things I actually expect to happen. I basically take a bunch of facts that are almost always entirely unrelated and do my best to connect the dots with by stretching my imagination. In the past these types of pieces have resulted in me theorizing that the Spider-Man sequel which became Far From Home might end up being a team-up outing of Spidey and Hulk in the Savage Land;however, I also wrote one theorizing that Sterling K. Brown would be playing the father of Erik Killmonger in Black Panther LOOOOOONG before anyone else was considering it and one in which I theorized that Annette Bening was actually Mar-Vell when everyone else still thought Jude Law was playing the character and, more recently, one in which I tried to connect some dots that would allow Spider-Woman to be a Sony/Marvel Studios cooperative effort much like the two most recent Spider-Man films. The bottom line is this: these are fun spec pieces that allow me to just be a fan. With that out of the way…
I'm on the verge of tears as I write this. Arriving at this conclusion, no matter how speculative in nature it may be, is the thing my own recent, personal nightmares are made of; however, as information has continued to make its way through my inbox and my phone, I've forced myself to at least accept this as one possible outcome out of many: Owen Wilson may just be playing the role of Kang the Conquerer in the upcoming Marvel Studios streaming series, Loki.
Recently Daniel RPK revealed that the series, now in production, was set to introduce the Master of Men to the Marvel Cinematic Universe and, if we are being honest with ourselves, there is plenty of evidence to support the insertion of Kang into the MCU in this series. As many of you know, the production company for the series is called Limbo Productions I LLC. In the comics, Limbo often served as a home base of sorts for Kang, all the Kangs really, and plays a large part in his own, personal stories. While we don't know specifics about the series, we do know that Loki will see the titular trickster travel through time and become an influence on human history. All sorts of times and locations are rumored, some of which (Egypt and Times Square) could easily be tied back to places that were quite important to Kang in the comics (credit to my friend @3vry1lvsgdstry for digging up some of that information!). Finally, the events of Avengers: Endgame not only put the finishing touches on the Infinity Saga, but also opened multiple storytelling pathways for the future of the MCU and, as Tony Stark said, "when you mess with time it tends to mess back." In summary, I don't think anyone will be entirely caught off guard is Kang is introduced to the MCU in the near future. However…
Owen Wilson as Kang the Conqueror would have to be up there with the absolute longest of longshots. It's not something anyone would ask for and it's certainly not something fans of the Lord of the Seven Suns have had their hearts set on for some time. So why am I, someone who finds Wilson's involvement in the MCU an affront to my fandom, connecting the dots that lead to an actor I am not a fan of assuming the role of a comic book character I've been wanting to see on screen for roughly a decade? Because there are at least to facts out there that started my mind down this pathway and, as awful as it sounds, I want to offer the evidence up to the rest of you so that you can think it over for yourselves.
We know Wilson's role in Loki is a major one. It's a lead role and while it's probably a very common occurrence with many of the actors who sign on for these Marvel Studios Disney Plus series, Wilson's contract includes an option for a to be determined number of film appearances. As I said, film options are likely the case for many cast members but I do find it interesting that Wilson's contract leaves it open ended. It indicates to me that not only can we possibly rule out an obscure character like Justice Peace or another member of the TVA, but also that Marvel Studios wants to lock Wilson into place for the next 3-5 years but, at this point, they aren't locked in as to what films they might use him in. This jives with some other information I've been hearing recently that some changes to the future of the MCU took place as recently as October of 2019, which is why until recently we didn't have a confirmed Captain Marvel sequel and we still don't know just what to expect in 2022 and beyond. It's possible that those decisions were very recently made or remade and that Kang now plays a large role in them.
Admittedly that's not very good evidence and since this is just a speculative piece, it doesn't really have to be, but there is one more thing of interest. We know that while Loki is using Atlanta as its home base so they can use the stages, they'll be going on location all around the U.S. over the next several months. Wilson's character, whoever it may be, is set to appear in at least 5 episodes and will be traveling to locations with star Tom Hiddleston. Going on location means potentially exposing your leads to fans and paparazzi and I am told that Marvel Studios is taking every precaution to make sure that Wilson's character is not revealed during these on location shoots because it would be considered a major spoiler. Again, if he's playing a character such as Justice Peace, someone heavily speculated on since the TVA reveal in the Super Bowl spot, I'm not sure the studio would be very worried about him being seen in costume. However, if Wilson's costume looks anything like the very unique get up Kang likes to trot around in, you can see why they won't want that out there.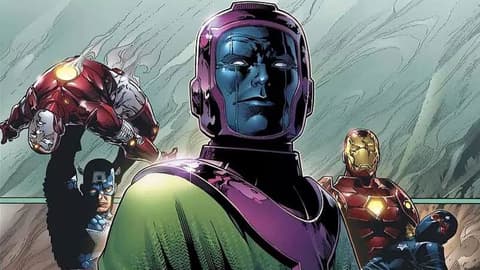 Kang is one of Marvel Comics greatest villains and a key component of the deal they made with Fox. There is no doubt they'll be introducing him at some point and his involvement with the Young Avengers, a team which has been heavily rumored to assemble on screen shortly (and the evidence sure is building there, isn't it?) makes it very easy to believe he's coming soon. As hard as it is for me to swallow that it's Owen Wilson who will be filling the role, it is one possible conclusion that can be drawn from the evidence that I'm starting to accumulate. I've always treated these Connecting Imaginary Dots pieces as fun speculative pieces and I've never been worried about being "right" or "wrong" about them; however, as soon as I hit publish, I'm going to spend the next several months hoping that someday we can all sit down and laugh as we label this theory as "WRONG."