Spider-Man: No Way Home will end the current trilogy of Tom Holland's run as the character. The first trailer teased the grand return of Alfred Molina as Doctor Octopus, which he openly confirmed some time ago. When we get our first look at the actor, it confirmed that he'll be closer to what he was in Spider-Man 2 back in 2004. Yet, a new image has found its way online that features a curious difference. His tentacles seem to have red and gold included in their design unlike what we saw in previous images.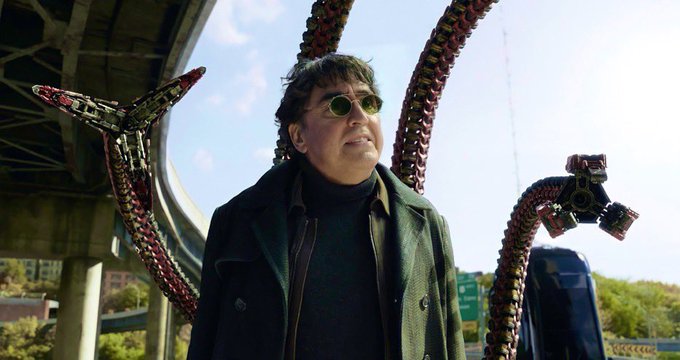 Of course, the color caught many fans' attention, such as @Mar_Tessaract believing it might be a nod to Tony Stark's iconic Iron Man color palette. Doc Ock was a mentor figure in the original film, which this may be a nod towards but what stands out is that when you look at previous images from Empire's coverage on the film, there's a distinct lack of these color additions.
If you zoom in, you might notice some golden parts in the tentacles' design but no sign of the red highlighted in the new image. Even the arms seem slicker in the new image if you take a closer look. Not just that, but it seems his tentacles have a very different structure. It is closer to the design from the 2004 film. So, the image from Empire above is probably from their first confrontation and he'll upgrade it at some point. Perhaps he ends up finding some Stark Technology equipment and gives his arms an overhaul. Learning of Peter's connection to the hero, he might add the color to toy with his multiversal foe.
Source: ComicBook.com, Twitter